"...turned out Creepy Bird Tower had a visitor center. I guess I shouldn't have been surprised, but from a distance all you can see is the tower itself, you know. It's like this white bony thing you can see sticking up over the city from pretty much anywhere. The actual visitor center's pretty tiny and hunkered down at the base of tower in that little parkish area with all the fountains and stuff--look, no, this is totally important, okay? Stop giving me that look.
Anyway, can you blame me? And how was I supposed to know a backwater little place like that would have
dioramas
? Like, I was expecting a couple pamphlets, maybe some stuffy little library or something, but the place was all full of these great little displays! Kinda dusty, yeah, but there was plenty there, all about the Tower's history and the excavations and restorations that had gone into building it up into the tourist attraction it is today. And
dioramas
! I'm a sucker for those things, let me tell you.
So I spent maybe a
couple
more hours there than I should have, you know, urgent mission and all that. Read all the signs, chatted with the receptionist a bit, she looked flattered someone was actually asking questions--gathering
information
, you know, vital stuff for my upcoming trip.
At least I had plenty of time to actually take a look at the job I was supposedly going to be doing once I got to the tower and found the professor. It was something about transmite going nuts and supersonic-ing everything everywhere to death and how I was supposed to be putting a stop to it, handsome reward, stay off the grass, blah blah blah. Now, I wouldn't know a transmite from a hole in the ground, and my pokédex was doing its extra-useless thing like it was back at the dig site, but I figured it didn't really matter too much. The long and the short of it was that I was supposed to be beating stuff up until it couldn't squeak anymore, and that sounded like an assignment that was pretty much my speed.
So it was late afternoon by the time I actually got to the tower, and I spent a while wandering around in the visitor areas on the lower floors, reading the plaques and checking out the reproduction dig sites that were all 'here's how scientists are carefully exhuming things to better understand the past and totally not because they want all the treasure for themselves.' There wasn't a ton, really, in the pokémon-free zones, but it was cool enough, I guess.
Around five, though, they started to send people through to herd everyone out of the tower, so I figured it was time to get going. I headed out through one of the doors warning about wild pokémon on the other side and proceed at your own risk and stuff.
Out there things were a
lot
less patched up, and I mean a lot, like gaping-holes-in-the-floorboards levels of not even trying. Holes in the walls, too, big ol' windows without glass and collapsed bits and everything. I wasn't far up in the tower at that point, of course, but even just a couple of floors up that kind of a view can make a girl nervous, you know?
Indy was getting kind of restless in my bag, so I let him out to run around a bit--the better to tacklemurder anything trying to sneak up on me, you know? 'Okay, Indy. We're supposed to be looking for a whole bunch of pokémon going bonkers, so if you see any, just give me a squawk, all right?'
He made some kind of gurgling noise that I figured was a yes, but honestly seemed a lot more interested in the tower itself, and most specifically, the big gaping holes in the walls. In particular, he was showing a
rather unsettling
interest in running right up to the edge of them and just standing there staring out, now and again kind of stretching his arms like he was thinking about starting to flap and, I don't know, take off, or more likely jump and fall and die horribly.
So I think it's perfectly excusable that I was a little distracted, you know. I was all, 'Whoah now, buddy, I don't think those wings of yours are quite ready for the prime time yet,' and he was completely ignoring me of course, so I wasn't paying all that much attention to what was in my way while I was going to intercept the potentially-flattened-starter situation. Naturally, that's exactly when the mission decided to go and intercept
me
.
OOC:
Going to start off the Revivalist mission "
T is for Turmoil
." That means I need an encounter with two confused, wild, non-transmite pokemon from the lower floors to face in succession.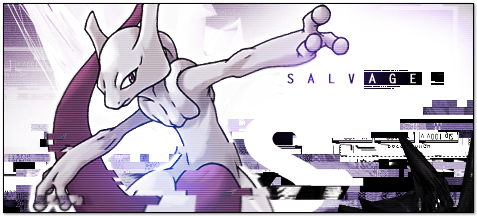 In which an undead trainer, a bloodthirsty super-clone, and an irascible ex-Rocket grunt set out to rescue an imprisoned Mew--if they don't end up murdering each other first.
Banner by Sworn Metalhead of
Dædric Design